POS: Point of Sale Systems
Outdoor Specialty Consulting is a "Value Added Retailer" (VAR) for Ensign Systems POS·IM™ Point of Sales & Inventory Management software. POS·IM™ provides outstanding value and functionality, as well as ease of set up and use for outdoor retailers. Our personal experiences include managing various outdoor retail store and e-commerce businesses using several of the most popular POS systems on the market, and we found POS·IM™ to be the best POS software. No Point of Sale system is perfect for everyone, but POS·IM™ is the best choice for many outdoor retail stores. We can show you how to use POS·IM™ effectively for outdoor retail; our goal is for your new system to justify its expense and pay for itself quickly.
POS·IM™ is designed specifically for owner operated retail stores and has been successfully used by outdoor retail stores for twenty years. It's known for its intuitive graphic user interface, ease of use, system stability, and powerful management reports. Outdoor Specialty Consulting understands the issues confronting outdoor retailers and can efficiently guide you through the entire cycle from qualifying and purchasing your POS system through installation, staff training, and entering your all-important item and customer data or transfering it from an older POS system. We can help you smoothly transition into the use of a POS system with immediate positive impact on your business.
Current POS users note
this
.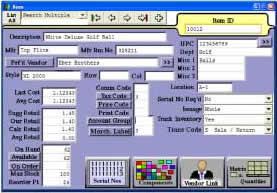 Inventory Control is the backbone of any good point-of-sale system, and one of the keys to your business success. POS·IM™ is designed to help you maintain optimal inventory levels, quickly and accurately, complete purchase orders, and simplify receiving and barcode labeling. Item information is kept on a single "card" allowing you to evaluate each item without time-consuming searches for related item data. Each inventory item can be classified using user-defined categories and sub-category fields. New items can be created in mass by importing, in bunches of similar items using a "grid" approach in the "Add Item" function, or one at a time. Multiple vendors can be assigned to each item and a "preferred" vendor identified.
A short list of POS·IM™'s features:
Available for Windows based PC's or for Apple/MacIntosh computers
Fast, easy cash register operation:
The program integrates the cash drawer, receipt printer, bar code scanner, and credit card reader with options for 2 second credit card processing. Powerful item look up features are available at the cash register.
Customer loyalty & history, special orders/layaways, and accounts receivable:
Instantly access all previous customer purchases; track special orders and layaways; run reports to determine best customers, customers purchasing specific products, etc (great direct marketing potential). Track charge accounts, customer discounts, store credits, and more.
Integrated Gift Card support:
Replace your gift certificates with gift cards, increase your sales and customer tracking.
Reporting & accounting integration:
Manage your inventory with 33 powerful built in reports for best and worst sellers; run period sales, on-hand, on-order and others by vendor, dept, season, etc.; low and high margin items; evaluate salesperson performance, or design your own custom reports. Direct integration with various accounting software including QuickBooks, MYOB, and Multi-Ledger.
Integrated purchasing and receiving:
Purchase orders are easy to create and edit. Auto-order feature saves time, increases sales, and improves inventory levels. Order items buy the case and sell them individually or vice versa. Receive from barcodes and UPC. Easily address mis-shipped items while receiving with various options.
Easily create, maintain, and update item & vendor information:
All information for each item or vendor is stored on a single item "card" which is easily updated. "Import" large numbers of items from spreadsheets and vendor catalogs at once. Update large amounts of item information at one time using the same feature. Easily adjust item quantities during comprehensive and "spot" physical inventories.
POS·IM™ uses Sybase SQL database:
A point of sale system can only be as good as the foundation it's built on: its database. Ensign Systems builds POS·IM™ (for Windows) around the Sybase database. There isn't a more powerful, stable, scalable database used by any point of sale system, period.
Current POS users
:
Are you currently using Retail Pro, Cam Data/Cam Commerce Retail Star, or any of the many other POS options, maybe even still running a DOS program? If you are less than thrilled with your current Point of Sale system, call us before your next major upgrade with your current POS. It might surprise you to learn that in many cases its less expensive AND easier (yes, even moving all of your item information) to move to POS·IM™ than to do a major upgrade with your current POS. (Yes, it's really that much easier to maintain your data and move data into and out of the system with POS·IM™ than with most of the other POS systems out there).
back to top